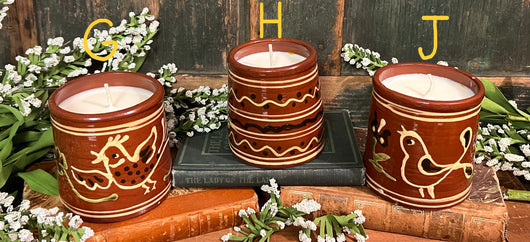 SJP-SDC3 Redware Soy Candle - Snickerdoodle
Made in the USA
Regular price $ 39.00 Sale
Our attractive Simple Slip Tumbler by Sue Skinner was made exclusively for Circa Home Living and then filled by our dear friend Casey with a Snickerdoodle scented soy wax, hand-crafted in small batches in CT. Burns for hours & hours. The container can be reused when the candle burns down by simply washing with soap & water. 3¼" wide by 3¼" high. Sold individually.
Choose from left to right: 
G - Bird.
H - Simple Slip Dots & Lines - SOLD.
J - Bird.